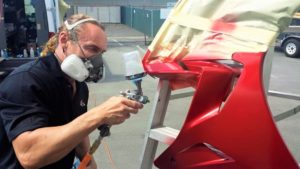 The industry recognised term for cosmetic vehicle paint repair is 'SMART' (Small to Medium Area Repair Technology).
This means our highly skilled Bumper Rescue paint technicians only need to carry out a localised and contained paint repair to the area of your car bumper or adjoining panel that has been damaged. By only painting this exact area of damage, our experts can simply just mix a small amount of product necessary to take care of the damaged area effectively. We then seamlessly blend / fade-out the repaired area into that of the original paintwork, eliminating the need for the full panel to be repainted. This process reduces repair times dramatically and eliminates unnecessary paint waste, enabling a more efficient and cost effective repair to you.
This small area repair philosophy allows us to eliminate unnecessary over painting to the original, unaffected paintwork and keep repair times down to a minimum. But above all else this highly effective procedure provides you the customer with an invisible repair and flawless finish.
Environmentally Friendly Paint System
At Bumper Rescue we use one of the leading, waterborne paint refinishing systems on the market. This industry approved, quality product has been specifically formulated for the automotive refinishing industry. Our paint system is more sustainable, more accurate, has a smoother finish and has improved colour matching technology. Its low impact on the environment conforms to the strictest requirements regarding EU V.O.C emission controls.
V.O.C's (Volatile Organic Compounds) are chemicals with a high vapour pressure causing large amounts of molecules to evaporate/sublimate into the air. Our waterborne paint system and small area application process allows us to keep our emission levels down minimising our effect on the environment.
Bodyshop or SMART Repair
Over the past 20 years or more the question has been asked many times; which is best, a traditional bodyshop or a SMART repair. It's easy to find websites, forums, threads and posts that argue for and against in equal measure. Quite honestly, both have a place in today's car body repair market.
At Bumper Rescue we know what we're good at, cosmetic bumper scuffs, scratches, scrapes and dents. If the whole panel doesn't need to be painted then we can help, this is what we specialise in, small area paint repairs that can be carried by highly experienced experts on site at your convenience. All repairs are carried out in a timely fashion (usually within a couple of hours) and at a fraction of the cost but to the same high standard to that of a professional bodyshop. At Bumper Rescue we use an industry leading water based paint system and colour match precision software in order to replicate your vehicles high quality original factory finish perfectly. All our repairs carry a customer lifetime; no quibble guarantee such is the professional pride and confidence we believe in throughout our company.
Bodyshop's are very good at what they do also. For instance it would be foolish to assume that we could carry out car body repairs on a similar scale to them. A heavily damaged vehicle requiring replacement panels or the whole side of the vehicle painting following a substantial collision would not be something anyone could consider a 'small to medium area repair'. This kind of large area lengthy repair needs to be carried out by a professional bodyshop repairer in a controlled and specialised environment.
Both SMART and bodyshop's are vitally important and have an equal place in today's car body repair market. If you need help with your vehicle you should contact us.