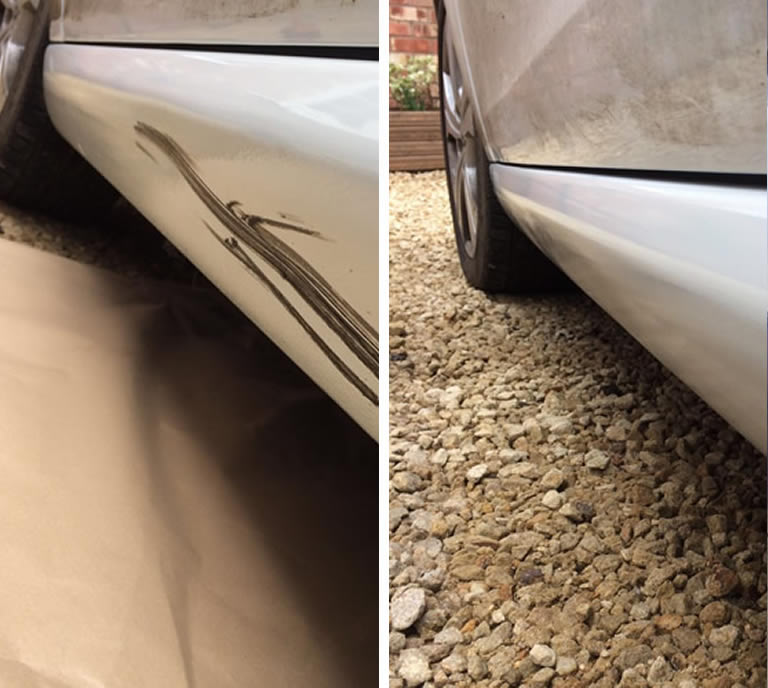 Car scratch repair by Bumper Rescue, specialists in mobile car bumper paint repair, scratch repair and scuff removal. We are vastly experienced in repairing bumper scratches, stone chips and scrapes. If the paintwork on your vehicle has been broken by a bumper scuff, key scratch, vandal scratch or stone chip, we can assist you in restoring the damage back to its best. Our experienced bumper repair professional technicians care about your car as much as you do and we take great pride in the work we carry out.
Car Scratch Repair Service
Imperfections to your vehicles paintwork can make it look very unsightly and in most cases can considerably reduce its future value should you consider selling the car. At Bumper Rescue we are experts in repairing and restoring car bumper paintwork using industry leading waterborne paint and precision paint match technology. By using one of our highly experienced and professional SMART repairers (Small to Medium Area Repair Technology) you can feel confident that you are in the right hands in order to return your vehicles paintwork back to pristine condition.
At Bumper Rescue we take all the stress and headaches out of mobile car bumper scuff and scratch repair. We provide:
Car scratch repair
Professional colour matching
Cracked bumper repair and bumper scuff repair
Paint scratch repair including key and vandal scratches­
Repair minor panel damage
Convenient, cost effective and quick service to your door
Typically a mobile car bumper scratch (SMART repair) will only take a short amount of time and at a fraction of the cost when compared to a traditional main dealership bodyshop. Our specialist technicians will firstly carefully inspect the vehicles paintwork meticulously and then precisely match the exact colour required to complete the repair in compliance with the manufacturer's original colour code specification. Because of this, occasionally we only ever need to repair the precise area of paintwork damage and not the whole panel. This enables us to keep the vast majority of the damaged panel 100% original.