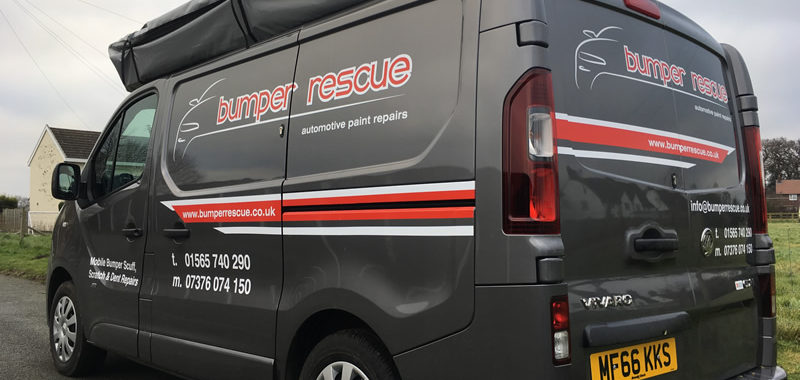 Crewe mobile paint repair
Why should minor damage to your car mean your whole day is thrown off track? With the car scrape repair and car scratch removal services provided by Bumper Rescue, Crewe's mobile paint repair specialist, a repair professional is dispatched to your home or workplace, resulting in a hassle free experience. Our collection of testimonials from satisfied customers is testament to the convenience and efficiency we deliver, not to mention an unmatched standard of workmanship.
Speedy service
Bumper Rescue is committed to completing the vast majority of all car scrape repair jobs and similar tasks within one to two hours. While our team of professionals is busy at work on your vehicle, you can continue with your daily activities with no interruption. It all adds up to the most convenient mobile paint repair solution!
Dealing with the damage
From paint repair on wheels or bodywork to bumper scuffs – we cover all types of minor smart repair damage. You specify the best time for us to visit with our mobile bodyshop, ready to get the job done. Our experienced repair team can apply perfect colour match technology, meaning your car will be back to normal in no time at all. We have been in the car body repair sector for two decades, so you can be rest assured your car is in the right hands.
Competitive pricing

We understand our customers. They don't want to be splashing the cash on a massive bill for minor car damage. Running a vehicle can be a costly business, but the Bumper Rescue price list has been compiled to be among the best value on the market, and usually just a fraction of traditional body repair prices. Take a look at competing car scratch repair services in the Crewe area and don't be surprised if Bumper Rescue comes up trumps!
Quick quotes
At Bumper Rescue we believe in making things as straight forward as possible for our customers – and that means a customer journey which provides rapid quotes at your request. Before we start work on a job, a quote is offered and agreed, meaning there will be no surprises down the line. In fact, any time you want a no obligation car paint repair quote, just call our team on 01565 740290 or 07773 239 790 and they will be happy to assist you.
Believe in the best
We are experts in mobile paint repairs in and around the Crewe area, so if you agree with us that minor car damage repair should be low cost and hassle free, get in touch today.