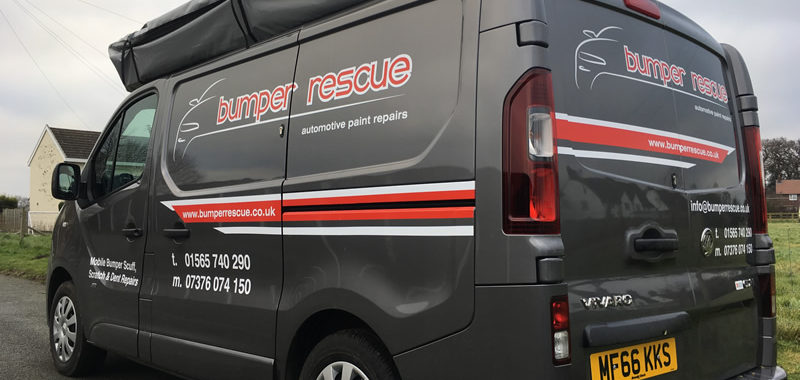 Car Paintwork in Congleton – Perfect Paint Repairs
If you are a vehicle owner in Congleton in need of mobile car paintwork repairs one of the best reasons to get it sorted promptly is that ignoring it can cost money!
Rust can develop on car paintwork all too quickly, but even the slightest damage can put off future buyers. Research in to what motivates car buyers has shown that usually the first thing they look for is well maintained bodywork.
Also, if you have a lease o hire car, returning it in a less than perfect condition can mean you have to pay high penalty charges for them to carry out the repairs.
What's stopping you?
Some drivers facing car scrape repairs in Congleton may be reluctant to sort the damage as they are worried about paying their insurance excess and losing their no claims bonus.
Bumper Rescue can avoid both of these problems. We offer an industry leading high-tech mobile paint repair system to customers in the Congleton area, we can carry out the repairs at a cost that will probably be less than your insurance excess. It will also be less than the usual cost at a traditional dealership bodyshop too.
High quality car paintwork repairs 
One of the other advantages of using Bumper Rescue for mobile smart repairs in Congleton is that all those scrapes, scuffs and scratches can all be professionally and completely covered in the same day.  This means you avoid being without your vehicle for days on end, as your car paint repairs in Congelton can be organised around your commitments.
What sort of damage can be sorted?
There are countless ways damage can happen but no matter how big or small the car paintwork problem is, Bumper Rescue can sort it.
The number of vehicles on Britain's roads grows every year, but ironically two thirds of damage to cars occurs in car parks (according to RAC Insurance). Sometimes it's other drivers who clip your bumper or car paintwork (or supermarket trolleys).
However, even the most careful driver can misjudge distances round a gateway, garage door, wall or post. Even door damage from key marks or malicious scratches can disappear with Bumper Rescue.
We can also work with our sister company who specialise in Paintless Dent Removal (PDR) to restore dented car bodywork to prime condition in the Congleton area.
Will it be covered completely?
If you need mobile car scratch repair in Congleton, our aim is to make your vehicle as good as new.
Which is why so many drivers trust Bumper Rescue. As well as having 25 years' experience in creating a blemish free finishes, we also offer up-the-minute technology and expertise. This includes software to ensure that our waterborne, environmentally friendly paint exactly matches the make, model and colour of your car.

Swift and effective car paintwork repairs
Call us on 01270 440155 or 07508 437170 to book a quotation as quickly as possible. For all your mobile car paintwork "marks", we are ready to get set and go.
---