Car bumper scratch repair
Car bumper scratch repair is now available from Bumper Rescue throughout Stoke, Crewe, Northwich and surrounding areas. Car paint scratches are unsightly whether they are on the general body of the car or the bumper area. Even the smallest area of damage will drive down the resale value of the car. If you are trying to cut costs by ignoring the damage, over time the exposed metal will lead to problems with rust. It is simple to fix many car scratches and carry out car bumper scratch repair work, without having to visit a car body shop.
By taking care of the problem as soon as it occurs, it will preserve your vehicle and help you avoid costly repairs in the future. Our mobile bumper repair experience includes paint scuffs, scratch repairs, bumper cracks, dents and colour corrections. Whatever the issue we will be able to provide a quick service to have your vehicle back to its original condition very soon.
Car bumper repair
As an increasing number of cars are driving on the roads of Stoke, Crewe, Northwich and surrounding areas, car bumper dents, scratches and scuffs are becoming a common problem. As roads and car parks become busier, spaces become tighter so accidents become more common. A bumper is one of the easiest areas to fix and replace on a vehicle. So, our mobile service and fast techniques are often the ideal solutions for these types of repairs.
Modern bumpers are often manufactured from plastics which are designed to absorb energy during a collision, they also integrate with the car body for a streamlined design. Although these bumpers do add to the attractiveness of a vehicle, they can damage easily because of their fragile quality. The most common areas for scratch and dent repairs on cars are the back and front bumpers, as they are often the first part of the car to bear an impact. Over time, even small knocks and scrapes to bumpers can start to make the vehicle look unattractive and uncared for.
A mobile service
In the past, most vehicle owners which required a car bumper scratch repair or a general car bumper repair have needed to visit a specialised body shop. However, our mobile team are capable of carrying out professional quality repairs on the roadside. Whether you are looking to have your car bumper scratch repair carried out at your home, workplace or at another convenient location we will be able to help. This means there is no need to waste time and money bringing the vehicle to a local repair centre, instead we will come to you at a time and place which fits with your busy life.
We ensure that we bring everything to your appointment that is needed to restore your car to its former glory. Our technicians all drive vehicles which are fitted with comprehensive paint repair stations. The equipment is the latest technology available and is designed specifically for carrying out high-quality bumper repairs, whether they are dents, scratches and scuffs. Although the repair will be carried out on the roadside, there is no compromise in quality.
Vast experience
We have over 20 years experience of carrying out car bumper scratch repairs in Stoke, Crewe, Northwich and surrounding areas, so are more than qualified to complete your repairs to an exceptional standard. We only employ the most experienced technicians, who are capable of carrying out industry leading cosmetic repairs to all parts of vehicles. We like to stay ahead of the game so continuously invest in staff training. We believe in the continuous improvement of our employees' knowledge, by providing them with experience with the latest technology and repair techniques. If there are new developments in the automotive repair industry, you can guarantee that we will be learning everything we can and be integrating them into our business.
Many of our inexperienced customers come to us after trying to fix a bumper themselves. Although there are kits available off the shelf to help you carry out your own bumper repair, you will not be able to achieve a perfect, professional finish. It is worth spending a little more and achieving a brilliant finish so you can be proud of your vehicle once again. We are so sure of the quality of the work we carry out, that all repairs we complete carry a customer lifetime guarantee. We take full professional pride in our service so this a full no quibble guarantee, to give you complete peace of mind. If for any reason you are unhappy, we will not charge you anything, instead, we will do everything we can to leave you more than happy with our service.
Perfect for small repairs
If you only require a small car bumper scratch repair, a mobile repair is more than up to the job. If however, the whole panel bumper looks as if it needs to be replaced, it may be necessary to replace the bumper within a body shop environment. We are always more than happy to carry out an inspection of the vehicle. We can very quickly decide whether it is suitable for a quick roadside repair. Bumpers can be manufactured from a variety of materials, although painted plastic is the most common. This material is cheap for car manufacturers but, unfortunately, it is quite delicate and is susceptible to damage for general driving conditions. The most common small bumper repairs include scratch repairs and scuffs from bumpers rubbing against objects and other vehicles.
Ideal for lease cars
One of the biggest concerns for those who have a lease vehicle is being able to return it in excellent condition. Car lease companies expect cars to be returned scratch and scuff free so that it is ready for resale or release. If you do happen to damage the vehicle you could incur a hefty fine and have to pay for the costly repairs. It is very common for drivers to gather a number of small scratches over the course of their ownership. For example, even the most careful of drivers could suffer from scratches from bushes and trees on small country lanes. If you would like to avoid costly repairs through the leasing company, we can carry out a quick repair before you return the vehicle. The repair will be perfect so the company will not notice that any damage happened to the vehicle. If you would like the peace of mind of knowing you have found the best deal, we will happily give you an accurate quote before carrying out any work.
Latest repair technology
As professionals in mobile car bumper scratch repair, we have invested in the latest car scratch repair techniques and use colour match technology for a brilliant finish. Our repair technicians only need to carry out a localised paint repair in most cases. We only repair the area which has been damaged, so that the small amount of paint used can be blended seamlessly with the original paintwork. This small repair eliminates the need for a full panel repair and results in a great finish at an affordable price. This is ideal for small scuffs and scratches on the corners or edges of bumpers. If the repair was needed to a large section of paneling, it would often be more suitable for a full panel respray in an onsite body shop. We strive to give our customers the best value, so will always give you the most accurate advice, even if it means recommending you to a local repair centre.

Colour match technology
The paint we use to fix car scratches on the body and bumper areas is one of the leading waterborne paint refinishing systems available on the market today. As experts in car body repairs, we only use industry approved paint which is specially designed for use in the vehicle refinishing industry. The paint system we use provides an accurate and smooth finish even though the process is quick and affordable. Our customers are surprised that they are unable to see where we have carried out repairs, because of the guaranteed 100% colour match accuracy we provide.
Environmentally friendly
As a responsible company, we do our best to reduce our impact on the environment. Which is why we have searched for the most environmentally friendly paint and developed techniques to help reduce our impact. The paint we use conforms to the strict requirements of the EU Volatile Organic Compounds emission controls. These compounds are chemicals which can evaporate into the air during the high vapour pressure painting process and over time lead to damage to the environment. We only use a waterborne paint system on small areas of your paintwork, to minimise the effect our repairs have on the environment as much as possible.
A fast service
Many of our customers thought they would need a complete bumper replacement, however, our experience in fixing car paint scratches has saved them from wasting their precious time. Our fast repair service can restore your bumper to its original condition in under two hours. A body shop can often leave you without your vehicle for up to a week, which is far from ideal when many of us rely on our vehicles to help us in our daily lives. Our vast experience has taught us how to cope with customer demand. Should we experience a busy period, we can easily scale up our businesses by adding more skilled technicians and mobile repair vans to our fleets. Onsite body shops struggle to cope with increases in demand because of limited space and staff number constraints. If the repair you need carrying out is urgent, a mobile repair can often be much quicker than waiting for a slot at your local body shop.
Affordable repairs
Many of our customers have found that our prices are actually around 75% cheaper than like for like repairs in specialised car body shops. For those who are thinking of claiming the repair under their car insurance, many find that the cost of a mobile repair is actually less than their insurance excess. This will ensure that your record is claim free, so your no claims bonus is retained and your insurance premiums do not increase. As specialists in mobile car scratch repair in the areas of Stoke, Crewe, Northwich and surrounding areas we can carry out the work at a roadside location for a fraction of the time and cost you may expect. This is because we do not have the large overheads which body shops need to cover such as rent, rates and utility costs.
Customer satisfaction
We have thousands of happy customers across Stoke, Crewe, Northwich and surrounding areas and are proud that a vast amount of business comes from referrals to us. We always strive for 100% customer satisfaction for all of our roadside car scratch repairs including those to bumpers, so you know you can trust us. If you would like to see for yourself some of the perfect repairs our technicians have carried out, you will find a selection within the <a href="https://bumperrescue.co.uk/gallery/"> gallery section </a> of our website. As you can see, we are capable of repairing all makes, models and colours of vehicles.
A local company
As a local, independent company we benefit from the flexibility to cater to our customer's requirements. Unlike other body shop chains and franchises, we are able to pay close attention to the repairs we carry out and get to know all of our customers. We value the relationships we build with our clients, in fact, many of our repairs are carried out on customers cars because they have been recommended to us by a previously satisfied customer.
If you are looking for mobile car scratch repair or car bumper scratch repair in Stoke, Crewe, Northwich and the surrounding areas, please contact us through email at [email protected] or by phone on 01270 440155 or 07508 437170.
One of our trained team will be more than happy to discuss the repair options and help you book a convenient appointment. You may also benefit from the services. We also own a local independent Paintless Dent Removal company which continues to carry out brilliant car dent repairs to vehicles.
Here at Bumper Rescue, we understand just how easy it can be to sustain minor damage to your motor. It's the simplest thing in the world to scratch or scrape your car, and bumpers are one of the most commonly knocked areas on a vehicle. Luckily, when you choose us for Cheshire car scratches it's also the simplest thing in the world to get any damage sorted out in no time at all.
The service we offer is something a little different: a mobile paint repair team who can come to your home or workplace and repair your bumper right there and then. We choose qualified professionals who know exactly what they're doing, and who are years in the business having just the skills and experience needed to fix any damaged bumper.

Cheshire Car Scratches
Our efficient team won't keep you waiting, either. We're always determined to get you road ready again in just an hour or two, and there's no need for external service providers to help fix your car. This is great for you, you'll save loads with no need for an expensive lease car to tide you over.
However, a quick turnaround doesn't mean that our team will fall short when it comes to the quality of their work. Using perfect colour matching technology, our paint repair technicians deliver a truly flawless finish. We want to ensure that your motor's resale value is unaffected by any scrapes, and that any repairs done are undetectable.
As if this weren't enough, Bumper Rescue is determined to keep our costs low too. Committed to delivering excellence and economy combined, we offer some of the most competitive prices around in order for you to be rid of those unsightly car scratches. We always aim to keep our repair costs cheaper than your car insurance excess, so that you can retain your no claims bonus.
Repair your Cheshire Car Scratches
At Bumper Rescue we're committed to providing a fast and friendly bumper and repair service across the Cheshire area, and are always happy to help when you find yourself in need of a quick fix and a quality finish. Why not get in touch with us today to see how we could help you? Our friendly team are ready to answer your Cheshire car paint repair questions and tell you more about any of our services. Simply call us on 01270 440155 or 07508 437170 to talk to us any time.
At Bumper Rescue, we understand how easy it is to sustain damage to your car, especially its paintwork. The roads are busy, parking spaces are narrow, and plenty of common obstacles can have an annoying habit of ending up in your blind spot, which all leads to one thing: car scratches and scrapes. Our mobile car scratch repair Crewe service brings the bodyshop to your front door and at a fraction of the price.
As common as such issues are, this doesn't make them any less costly to you. The chances are that you might want to sell your vehicle at some point, and if you leave these car scratches as they are, your resale value is likely to take a rather significant nosedive.
Of course, it's natural that you don't want to pay a fortune to have that scratch repair in Crewe carried out. Luckily, the professionals who man our team don't expect you to. We keep our costs as low as possible here at Bumper Rescue, and will always try to charge less than your car insurance excess – not only saving you money, but ensuring that your no claims bonus can remain entirely intact.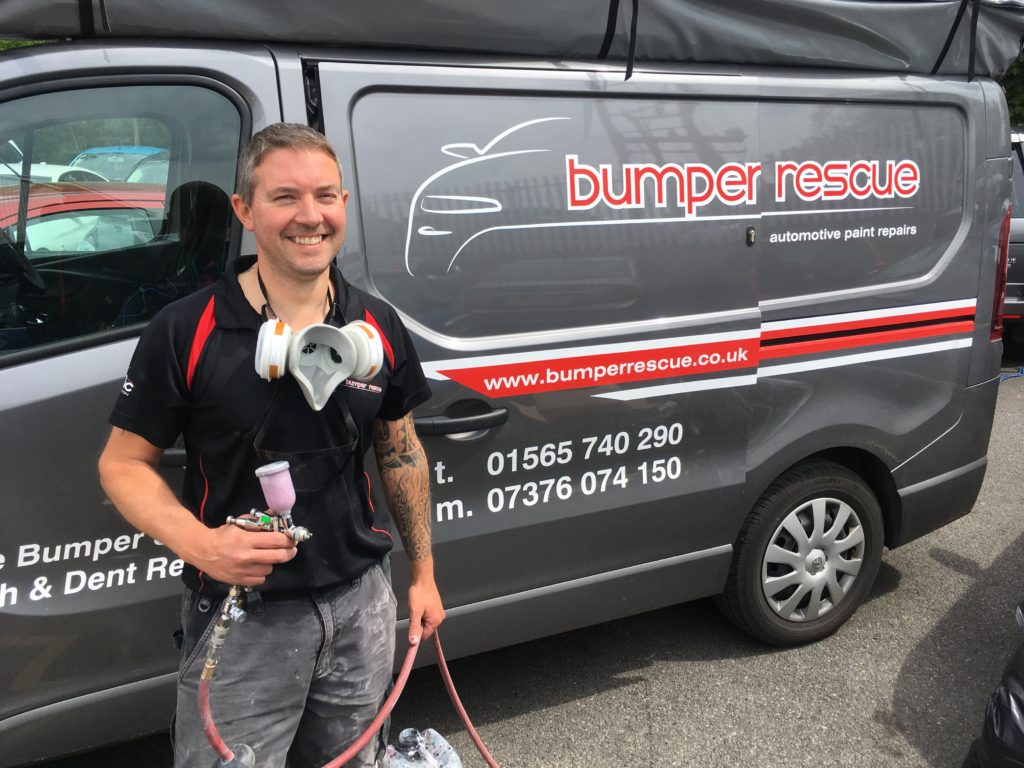 Scratch Repair Crewe
Our mobile scratch repair prices in Crewe are not low because we make any concessions on quality, however. With over 20 years of car body shop experience, our paint repair technicians are experts at what they do, and will provide a flawless finish to rival that found anywhere else. Our finish is achieved using special colour matching technology, allowing us to complete scratch repair work which blends seamlessly into its surroundings, and in doing so, restores your vehicle to its full value in an instant.
Our business works a little differently to more tradition bodyshops. Rather than having you bring your car to us, we will bring our specialist car scratch repair process to you in Crewe, servicing it at your home or workplace. This is how we keep our costs so low, and because we don't have a backlog of other work to carry out it means we can be with you in no time at all.
We won't mess around once we arrive either. Completing most scratch repair requirements in just an hour or two, we'll ensure that there's no need for you to drop your car off and hire a rental to tide you over in the meantime. Bumper Rescue is the best when it comes to fixing mobile car scratches in the Crewe area. We're always eager to help you out, and consistently deliver a customer experience that can't be faulted.
Contact us for Mobile Scratch Repair Crewe
To find out more about any of our services, or book in our team to help you out today, why not give us a call on 01270 440155 or 07508 437170.
These days, damage to your car paintwork is a pretty common problem due to busy roads and narrow parking spaces. It's easy to sustain the odd scuff or scratch, but that doesn't mean the value of your car needs to be affected. Here at Bumper Rescue, we specialise in mobile car paint repair Crewe, and our customers come back to us time and time again for a service they know they can trust.
The service we offer is a little different to that delivered by our competitors, because our friendly team will come out to you rather than the other way around. We operate a professional paint repair operation in Crewe, which means you can expect a qualified professional to arrive at your home or workplace within hours of you calling us to report a problem. Just because you're still able to drive your car, doesn't mean you've got the time to spare in which you're happy to just leave the vehicle at the garage for days on end.

Crewe Paintwork Repair Specialists
You won't need to take your car anywhere to get those Crewe paint repair blemishes all sorted out. Unlike a standard bodyshop repair business, we'll set to work straight away. This is great for your wallet, as it means you won't need to cough up for an expensive lease car in the meantime. Getting started as soon as we arrive, we'll have your repairs completed as fast as we can without compromising on the quality of our work – so you can be back on the road in no time.
We're committed to delivering the perfect finish here at Bumper Rescue. We'll achieve this by using perfect colour match technology to create a truly flawless result. Employing only quality materials, the repaired car scratch will blend seamlessly into your original paintwork, so that your resale is unaffected. Nobody will be able to tell that you've had any work done at all.
Our technical skills are matched only by our value for money. Despite the excellent service we deliver, we won't expect you to pay the world to have those car paint repair problems taken care of. Charging some of the most competitive prices around, we'll always do our best to keep your repairs cheaper than your excess, so your no claims bonus remains entirely intact.
Committed to delivering a friendly, professional, and picture perfect car paint repair Crewe service, we're the ideal people to come to if you sustain a slight scuff or mark in the Crewe area, and will always do our best to accommodate you as quickly and efficiently as we can.
Contact us for Mobile Car Paint Repair Crewe
To learn more about how we can help you, why not get in touch with us today? Our team are always happy to answer any questions or queries you might have, call us on 01270 440155 or 07508 437170..
Here at Bumper Rescue, the clue is in the name! We specialise in mobile car scratch repair of car bumpers, and are well prepared to help you with any other car paintwork related issues you might have with your vehicle's bodywork. It's hardly a surprise that our services are so in demand these days. With more cars on the road than ever before and parking spaces getting smaller and smaller, it's all too easy to get a car scratch or scrapes on your bumper. Luckily we've got just the skills to help you out with your car scratch repair Crewe, no matter what the damage.
With over 20 years of car body shop experience, we know just how to fix just about anything when it comes to car scratch repair on your paintwork, but the way our business operates is a little bit different to the traditional bodyshop experience – something that our customers really appreciate when they come to us.

Mobile Car Scratch Repair Crewe
We offer a dedicated Crewe car scratch repair service, from our state of the art premises in Crewe. We're happy to offer free quotations in order to spruce up your car and get it looking as good as new again.
Here at Bumper Rescue we understand how inconvenient it is for drivers to find their vehicle out of action for days on end due to a need for a car bumper and scratch repair in Crewe, which is why we ensure that the majority of our repairs are completed the same day. There's no need to waste money on an expensive lease car when you choose Bumper Rescue for all of your bumper scratch repair requirements.
However, just because we get all our Crewe scratch repair work and bumper scuffs done at an optimum speed, doesn't mean that we're going to compromise on quality. Bumper Rescue only employ experienced mobile car paint repair professionals, trained to utilise perfect colour matching technology to create an immaculate finish. Once we're done with your Crewe bumper repair, your motor will look better than ever before. There's no danger your vehicle's resale value will be affected by shoddy paintwork.
Bumper Rescue is committed to delivering both excellence and great value for money. We'll complete our work for a fraction of the price you'd expect to pay elsewhere, with no hidden costs. No one likes to be hit with an offensive bill right at the end of a job, so we'll assure you right before we begin that there's no need for our car scratch repair work to affect your no claims bonus.
Contact us for Mobile Car Scratch Repair Crewe
Friendly, experienced, and the best at what we do, we're the perfect people to call when you're in need of a mobile Crewe car bumper repair and scratch removal, so why not get in touch with us today to find out more about how we can help you. Our friendly team are always happy to handle any questions or queries you might have. Call us on 01270 440155 or 07508 437170. If we're not about when you give us a ring, simply leave a message with any information we might need and we'll be sure to get back to you as soon as possible. Better still, send over a quick snapshot or short video of your car scratch, bumper scrape or stone chips and we'll try to provide you with an instant quote!
Mini Cooper Large Bumper Repair
This particular job came into us through the Bumper Rescue Car Paint Repair website.
As a mobile car scratch and bumper paint repair company its important to stay within the realms of realism when it comes to which jobs we attempt and which jobs we suggest may be more suited to a traditional car bodyshop.  One of the main reasons for this is the conditions we work in.  The bigger damage requiring more hours and more surface area repair (whilst tempting to perform outside) may be more geared towards the controlled environment of a spray booth. My first impressions when I went out to quote on this plastic bumper paint repair quote job was that it was on the very limits of our capabilities and may need to be replaced.
However, I needn't have worried. The team produced an absolutely outstanding piece of work. Out technicians brings with them to every job at Bumper Rescue a wealth of knowledge gained from over 25 years within an actual bodyshop environment. There are many different companies to choose from when selecting which mobile smart repairer will best serve your needs. Choose a company on its reputation, longevity and a professional, repeated consistancy for producing quality workmanship.
If you have any car bumper damage or car scratch repairs that you would like us to quote you on in order to return your car back to pristine showroom condition please get in touch on the below phone numbers and email address:
01270 440155 / 07508 437170
[email protected]
Better still and for a faster turnaround in obtaining your car paintwork quotation, why not send us a short video, highlighting the damage to your car. This can also be sent to the same above details.
Bumper Rescue – The regions leading smart repairer
Auto paint repair professionals – Bumper Rescue
With over 20 years experience in the industry, we're leaders when it comes to expert mobile auto paint repair and scratch removal in Cheshire and North Staffordshire. Using the latest technology, we provide the highest quality cosmetic repairs to vehicles of all types.
Working alongside our sister company who specialise in PDR (Paintless Dent Removal), we provide a complete auto paint repair service. Whether you've scuffed your bumper on a high kerb, scratched a panel on a low-rise wall or had your car scraped in a car park, we can provide the perfect mobile cosmetic repairs with a flawless finish.
When it comes to mobile car paint repairs, there's lots to consider. Fortunately, our customer service is as good as our workmanship! We pride ourselves on delivering a friendly, reliable and professional service to all our customers. Whatever your needs, you can trust us to complete your car paint repairs to the highest standard.
To find out more about the cost-effective service we offer, why not get in touch with us today on 01565 740 290. Alternatively, why not simply text us your paint damaged photos to 07715 984031 and we'll provide you with an auto paint repair quick quote!
Bumper Rescue – Auto Paint Repair
While it may be tempting to postpone bodywork and auto paint repair, this could result in further damage to your vehicle. If the paint and primer have been scuffed or chipped, for example, it's likely that the metal frame of the vehicle will be exposed to the elements.
If this is the case, rain or damp weather could cause rust to set in. By repairing any paintwork as quickly as possible, you'll prevent this from happening and ensure your car or van is kept in perfect condition.
As well as repairing any existing damage to your vehicle's paintwork, we can help to ensure that the risk of further scratches and scrapes is reduced in the future.
When your car paintwork is scratched, the damage will also remove any protective lacquers on the surface of the paint. Whilst a scuff may not look too bad to the naked eye, there may be more damage than you realise. If left untreated, any future damage could be far worse than you expect. By repairing car scratches and scuffs as they occur, the paintwork can be fully treated and the risk of future damage reduced.
With high-quality, low cost convenient repairs from Bumper Rescue, there's no need to wait to restore your vehicle to its former glory.
Experienced and professional mobile technicians
Bumper Rescue technicians are all highly trained and passionate about the work we do. With years of experience, we're able to identify the best solutions when it comes to car scratch repairs in and around Crewe, Nantwich, Northwich and Stoke on Trent.
By appraising each job individually, we can deliver bespoke paint finishes and ensure that your car scratch repairs aren't even noticeable.
Whilst one scrape or scuff may look similar to another, this isn't the case. Vehicle paintwork is made up of many layers and each scratch may have penetrated to a different level. When carrying out car scratch repairs, we'll determine how deep a scratch or chip is, so that a flawless repair can be carried out.
If your car's paintwork has been scratched and metal is showing, for example, we may use an appropriate primer to protect the vehicle's frame. We'll then apply perfectly-matched paint in layers, so that the finished repair is an exact match to the existing paintwork. If your vehicle has a specific finish or lacquer to enhance the colour or shade, we can also match new materials to this so that you'll be left with a seamless finish and a perfect repair.
Lowering the cost of bodywork repairs
Although mechanical faults can require expensive repairs, many people associate bodywork repairs with high costs too. Whilst traditional body shop services may run into hundreds, or even thousands of pounds, there are other options available. However your car has been damaged, paint scratches, scuffs and scrapes don't need to cost the earth to put right.
At Bumper Rescue, we're dedicated to offering the highest quality of work at a cost-effective price. Rather than paying inflated prices or spending more than you need to, you can access impeccable auto paint repairs in Nantwich, Stoke on Trent, Crewe, Northwich and the surrounding Cheshire & North Staffs areas, for a reasonable cost.
While your insurance cover may include the cost of bodywork and paint repairs, it isn't always advisable to make a claim. In many cases, insurers will simply decide that vehicle panels should be replaced, rather than repairing damage to the paint or bodywork. Often, this is completely unnecessary and results in higher costs for you, as well as the inconvenience of your vehicle being off the road whilst the panels are replaced.
When you rely on your insurer to cover the cost of repairs, you may lose policy benefits, such as your no claims bonus. In addition to this, the cost of future premiums and cover is likely to increase so you could end up paying more for future insurance policies.
Often, we're able to repair the damage to your vehicle at a lower cost than your insurance excess. This means that you'll save money in the short-term and you won't lose your no claims bonus or face the risk of higher premiums. Even better…we come to you with our professional mobile paint repair service.
Flawless auto paint repairs
For drivers, one of the biggest barriers when it comes to vehicle scratch repairs or paintwork fixes, is the time it can take to have the work completed. Using a traditional car body shop, for example, can mean that your vehicle will be off the road for quite some time. In addition to this, it can be time-consuming to get your car to the site and then find alternative transportation.
Furthermore, using insurance car body shops for small to medium paint repairs can be unnecessary and costly. Whilst they're ideal for large repairs or replacing panels, smaller repairs can often be carried out at a lower cost by specialist technicians. At Bumper Rescue we can complete many automotive car paint repair jobs for a lot less than the price at a traditional body shop.
We repair vehicles from Northwich, Crewe, Nantwich, Stoke on Trent and nearby areas for damage such as bumper scuffs, scratches dents and stone chips.
At Bumper Rescue, we understand the needs of our customers and we do everything we can to make the car paint repair process as simple as possible. Our specialist auto paint repairs can be carried out at a time that's convenient for you.
Fast and efficient car scratch repairs
If you've put off having your vehicle paint repairs carried out because of the time involved, you needn't wait any longer! Forget days or weeks of waiting time – Bumper Rescue can carry out repairs to your paintwork in just a few hours.
In most cases, we can repair paint scratches, chips and scuffs in a few hours, so there's no need for your car or van to be off the road and you won't be inconvenienced. By using state of the art technology, our experienced mobile car paint repair technicians can assess the damage to your vehicle and carry out a high-quality repair quickly and efficiently.
Rather than replacing panels or respraying entire areas, we'll focus on where the damage occurred and limit the need for unnecessary work. With environmentally friendly paint technology and skilled professionals, we can deliver a flawless repair – every time.
For speedy car paint repairs with a sublime finish, why wait any longer? If you're looking for professional car scratch repairs in Nantwich, Stoke on Trent, Crewe, Nantwich or the surrounding areas, contact us today on 01565 740 290 or 07773 239 790 and find out how we can help.
Repairing bumper scuffs and dents
Much of the wear and tear of a vehicle is visible on the bumpers and this can result in unsightly scratches and scuffs. Whether your car bumpers are traditional black or colour-coded, any marks or dents can affect the appearance of the vehicle as a whole.
High kerbs, awkward driveways and speed bumps can easily cause damage to your bumpers, but this needn't be irreversible. Whilst replacing a bumper can be unnecessarily costly, the damage can often be put right.
Fortunately, it's easy to repair scuffs or dents to the bumpers with Bumper Rescue. Whether your bumpers have been damaged in a collision, as a result of a parking mishap or because of stone chips on the road, our specialist car paint repair service can rectify any issues.
Increase the value of your car
The presence of scratches and scuffs on your vehicle will affect more than just how your car looks. In addition to damaging the car's appearance, chips and scrapes to the paintwork of your vehicle can also affect its value.
If you're considering selling your vehicle or if you want to ensure it keeps its monetary value, carrying out any paintwork repairs can be an advisable thing to do. For many drivers, their car is one of their biggest assets, so it makes sense to protect its value and keep it in perfect condition. You wouldn't risk the integrity of your vehicle by ignoring flat tyres or engine faults, so why postpone important repairs to the paintwork?
Whether you're planning to sell your car in the near future or not, it's always worth keeping it in tip top condition. Preventing further damage and restoring the appearance of your car will help to retain, or even increase, its value over time.
Of course, you may not use your own vehicle at all times and, on occasion, you may need to carry out repairs on hired or leased vehicles. If you regularly use a company car or work vehicle, for example, you'll want to repair any damage to it before you return it to the relevant lease company. Using Bumper Rescue ensures that you can return the vehicle in perfect condition and avoid losing your deposit or incurring any costly penalties.
With our mobile auto paint repair and scratch repairs coming in at just a fraction of the cost, restoring a hired or leased vehicle in Stoke, Northwich, Nantwich, Crewe or the nearby areas, can save you time and money. To learn more now, contact us on 01270 440155 or 07508 437170 and we'll be on hand to help.
Only the best paint recognition technology
When carrying out mobile auto paint repair or scratch removal, it's vital that the colour is matched perfectly. Only by using the right colour and paint finish can your vehicle be properly repaired. Why risk an unsightly mismatched repair when a perfect match and an exquisite finish can be achieved at a low cost?
As industry leaders, we're heavily invested in using new technology to provide the best scratch repairs possible. Our well-equipped mobile paint repair unit enables us to identify the paint used on your vehicle quickly and easily. Our top of the range paint recognition software means that we can determine the exact colour and shade.
Whether you're driving the latest 4×4, an older hatchback, a vintage classic or a limited edition vehicle, we'll find the perfect match for your car before we carry out any work.
Following this, we'll use our advanced waterborne paint technology to develop a perfect colour match. Our state of the art software and experience means that we can provide a seamless finish to any paintwork in a matter of hours.
High-quality, low cost auto paint repair.
If your car or van has been scratched, chipped or scuffed, why not get in touch with us and find out how we can help?
Our low cost service means that everyone can benefit from seamless car scratch repairs. Although we provide affordable, cost-effective auto paint repairs, this doesn't mean we scrimp on quality. Committed to delivering flawless work, our dedicated technicians will carry out your repairs to the highest standard. In fact, our Bumper Rescue guarantee means that you won't pay anything unless you're happy with the results!
To find out more or to arrange a mobile auto paint repair in Northwich, Nantwich, Stoke on Trent, Crewe or the surrounding areas, contact Bumper Rescue today on 01270 440155 or 07508 437170.
Why should minor damage to your car mean your whole day is thrown off track? With the mobile car scrape repair and mobile car scratch removal services provided by Bumper Rescue, Crewe paint repair specialist, a repair professional is dispatched to your home or workplace, resulting in a hassle free experience. Our collection of testimonials from satisfied customers is testament to the convenience and efficiency we deliver, not to mention an unmatched standard of workmanship.
Speedy service
Bumper Rescue is committed to completing the vast majority of all Cheshire mobile car scrape repair jobs and similar tasks within the same day. While our team of professionals are busy at work on your vehicle, you can continue with your daily activities with no interruption. It all adds up to the most convenient paint repair solution!
Dealing with the damage
From paint repair on car doors and wings or rectification work to bumper scuffs – we cover all types of minor smart repair damage. Our experienced repair team can apply perfect colour match technology, meaning your car will be back to its best in no time at all. We have been in the mobile car body repair sector for two decades, so you can be rest assured your car is in the right hands.
Competitive pricing

We understand our customers. They don't want to be splashing the cash on a massive bill for minor car damage. Running a vehicle can be a costly business, but the Bumper Rescue price list has been compiled to be among the best value on the market, and usually are less expensive than traditional main dealership car body repair prices. Take a look at competing car scratch repair services in the Crewe area and don't be surprised if Bumper Rescue comes up trumps!
Quick quotes
At Bumper Rescue we believe in making things as straight forward as possible for our customers – and that means a customer journey which provides rapid quotes at your request. Before we start work on a job, a quote is offered and agreed, meaning there will be no surprises down the line. In fact, any time you want a no obligation mobile car paint repair quote, just call our team on 01270 440155 or 07508 437170 and they will be happy to assist you.
Believe in the best
We are experts in mobile Crewe paint repair, so if you agree with us that minor car damage repair should be low cost and hassle free, get in touch today.
Why should minor car damage mean your working day grounds to a halt? With Bumper Rescue, you have an expert mobile paint repair service which will provide drivers in the Northwich area with an unsurpassed service. Quality, efficiency and convenience are the Bumper Rescue bywords, and the high-quality workmanship we guarantee is proven in our long list of positive testimonials from customers. Your Northwich car scratch removal dilemma is at an end!
Rapid repairs
At Bumper Rescue, our repair team set themselves a target of completing all jobs within a one to two hour time frame. You can crack on with your day, whether you are relaxing at home or busy at work, while our mobile scratch and paint repair experts get the job done.
All types of minor damage
We cover all kinds of minor damage, from car bumper repair to wheel or bodywork paint jobs. Our Bumper Rescue mobile bodyshop is dispatched to your location in order to address any Northwich car scratch removal problems for a time slot which is convenient to you. With our perfect colour match technology, you can look forward to a car which is in exactly the state it was in before the damage! With over 20 years industry experience to offer, you couldn't leave your vehicle in safer hands.
Prices which don't break the bank

Minor car paint repairs shouldn't cost the earth; so at Bumper Rescue we price our mobile repairs as competitively as possible – typically costing just a fraction of what you would pay for a traditional car body repair. After all, doesn't running a car cost enough as it is? We invite you to take a look at similar car scratch removal services in the Northwich area – you can expect Bumper Rescue to come out on top!
Quick quotes
We intend every aspect of the Bumper Rescue service to be as easy as possible for customers, from the first phone call, to the quotes we provide, and the service itself. Accurate mobile car scratch repair quotes are provided prior to every job we undertake – so you won't encounter any unexpected extras further along the way. Want a price right away? Just call 01270 440155 or 07508 437170 and our team will be able to provide you with a free no obligation quote.
Believe in Bumper Rescue!
Northwich car scratch removal need not set you back in terms of time or finance. Get in touch with us today for a quick and easy mobile car body repair service for drivers in the Northwich area.
Vehicle owners in Stoke on Trent all have one thing in common – every day they face the risk of having their car scratched, scuffed or scraped. Stoke on Trent bumper scuff repairs are carried out at your home or work with our mobile repair vehicles and for larger repairs at our state of the art professional premises in Middlewich, Cheshire
No matter how careful you are as a driver, one brief lapse of concentration – even on your own driveway or getting into your garage – could result in the sort of damage that immediately devalues your car. It is quite common to find a build-up of scratches on doors just from keys too.
In fact, according to the RAC's insurance arm, around two thirds of motorists experience the frustration of car damage in a car park. It's not just other drivers who can leave you facing car scrape repairs, it's all too easy to misjudge your distance from that post, kerb or wall.
If you are a driver facing a car scratch repair in Stoke on Trent, you are a phone call away from getting it sorted out by Bumper Rescue.
There is no need to worry about delivering your precious vehicle to a traditional car bodyshop. We can complete mobile bumper scuff repairs for car paintwork for all our Stoke on Trent customers with minimum fuss or inconvenience.
It's not just bumpers that benefit from the state-of-the-art technology and many years experience we offer. Bumper Rescue can also cover scrapes and scratches anywhere on your car bodywork. We use the latest software to provide an exact colour match to your make and model. We even use waterborne car paint that is environmentally friendly, to create a blemish free finish that is as good as new.
The whole process can take as little as 1 hour. And as the car bumper scuff repairs Stoke on Trent is done at your home or workplace, the cost will be a pleasant surprise. It will be less than charges from a traditional main dealership body shop. Even better, it can be fitted around your busy life and work pattern, for minimum disruption and hassle.
It could well be lower than your insurance excess too, making all the pesky paperwork unnecessary and helping you to keep your no claims bonus.
This high quality bumper scuff repairs process for car scrape damage in Stoke on Trent even extends to dents and dings. We can work closely with our sister Paintless Dent Removal company to restore your bodywork to a very high standard.
Finding marks on your car can be a source of stress, especially as surveys show that each scrape, scratch or scuff on car bodywork in Stoke on Trent can put buyers off.
Fortunately, we provide peace of mind and prompt mobile car paint repairs throughout Stoke on Trent. All you need to do is give us a ring on 01270 440155 or 07508 437170 to bring our fast and convenience service right to your door.