At Bumper Rescue, we understand how easy it is to sustain damage to your car, especially its paintwork. The roads are busy, parking spaces are narrow, and plenty of common obstacles can have an annoying habit of ending up in your blind spot, which all leads to one thing: car scratches and scrapes. Our mobile car scratch repair Crewe service brings the bodyshop to your front door and at a fraction of the price.
As common as such issues are, this doesn't make them any less costly to you. The chances are that you might want to sell your vehicle at some point, and if you leave these car scratches as they are, your resale value is likely to take a rather significant nosedive.
Of course, it's natural that you don't want to pay a fortune to have that scratch repair in Crewe carried out. Luckily, the professionals who man our team don't expect you to. We keep our costs as low as possible here at Bumper Rescue, and will always try to charge less than your car insurance excess – not only saving you money, but ensuring that your no claims bonus can remain entirely intact.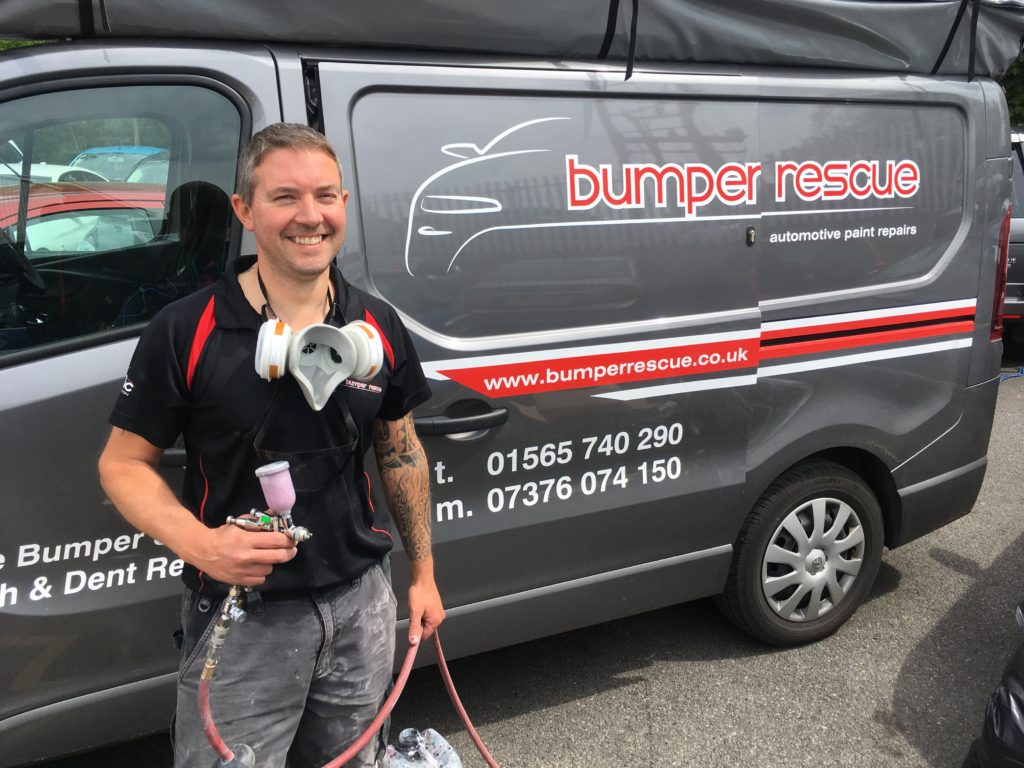 Scratch Repair Crewe
Our mobile scratch repair prices in Crewe are not low because we make any concessions on quality, however. With over 20 years of car body shop experience, our paint repair technicians are experts at what they do, and will provide a flawless finish to rival that found anywhere else. Our finish is achieved using special colour matching technology, allowing us to complete scratch repair work which blends seamlessly into its surroundings, and in doing so, restores your vehicle to its full value in an instant.
Our business works a little differently to more tradition bodyshops. Rather than having you bring your car to us, we will bring our specialist car scratch repair process to you in Crewe, servicing it at your home or workplace. This is how we keep our costs so low, and because we don't have a backlog of other work to carry out it means we can be with you in no time at all.
We won't mess around once we arrive either. Completing most scratch repair requirements in just an hour or two, we'll ensure that there's no need for you to drop your car off and hire a rental to tide you over in the meantime. Bumper Rescue is the best when it comes to fixing mobile car scratches in the Crewe area. We're always eager to help you out, and consistently deliver a customer experience that can't be faulted.
Contact us for Mobile Scratch Repair Crewe
To find out more about any of our services, or book in our team to help you out today, why not give us a call on 01270 440155 or 07508 437170.
These days, damage to your car paintwork is a pretty common problem due to busy roads and narrow parking spaces. It's easy to sustain the odd scuff or scratch, but that doesn't mean the value of your car needs to be affected. Here at Bumper Rescue, we specialise in mobile car paint repair Crewe, and our customers come back to us time and time again for a service they know they can trust.
The service we offer is a little different to that delivered by our competitors, because our friendly team will come out to you rather than the other way around. We operate a professional paint repair operation in Crewe, which means you can expect a qualified professional to arrive at your home or workplace within hours of you calling us to report a problem. Just because you're still able to drive your car, doesn't mean you've got the time to spare in which you're happy to just leave the vehicle at the garage for days on end.

Crewe Paintwork Repair Specialists
You won't need to take your car anywhere to get those Crewe paint repair blemishes all sorted out. Unlike a standard bodyshop repair business, we'll set to work straight away. This is great for your wallet, as it means you won't need to cough up for an expensive lease car in the meantime. Getting started as soon as we arrive, we'll have your repairs completed as fast as we can without compromising on the quality of our work – so you can be back on the road in no time.
We're committed to delivering the perfect finish here at Bumper Rescue. We'll achieve this by using perfect colour match technology to create a truly flawless result. Employing only quality materials, the repaired car scratch will blend seamlessly into your original paintwork, so that your resale is unaffected. Nobody will be able to tell that you've had any work done at all.
Our technical skills are matched only by our value for money. Despite the excellent service we deliver, we won't expect you to pay the world to have those car paint repair problems taken care of. Charging some of the most competitive prices around, we'll always do our best to keep your repairs cheaper than your excess, so your no claims bonus remains entirely intact.
Committed to delivering a friendly, professional, and picture perfect car paint repair Crewe service, we're the ideal people to come to if you sustain a slight scuff or mark in the Crewe area, and will always do our best to accommodate you as quickly and efficiently as we can.
Contact us for Mobile Car Paint Repair Crewe
To learn more about how we can help you, why not get in touch with us today? Our team are always happy to answer any questions or queries you might have, call us on 01270 440155 or 07508 437170..
Why should minor damage to your car mean your whole day is thrown off track? With the mobile car scrape repair and mobile car scratch removal services provided by Bumper Rescue, Crewe paint repair specialist, a repair professional is dispatched to your home or workplace, resulting in a hassle free experience. Our collection of testimonials from satisfied customers is testament to the convenience and efficiency we deliver, not to mention an unmatched standard of workmanship.
Speedy service
Bumper Rescue is committed to completing the vast majority of all Cheshire mobile car scrape repair jobs and similar tasks within the same day. While our team of professionals are busy at work on your vehicle, you can continue with your daily activities with no interruption. It all adds up to the most convenient paint repair solution!
Dealing with the damage
From paint repair on car doors and wings or rectification work to bumper scuffs – we cover all types of minor smart repair damage. Our experienced repair team can apply perfect colour match technology, meaning your car will be back to its best in no time at all. We have been in the mobile car body repair sector for two decades, so you can be rest assured your car is in the right hands.
Competitive pricing

We understand our customers. They don't want to be splashing the cash on a massive bill for minor car damage. Running a vehicle can be a costly business, but the Bumper Rescue price list has been compiled to be among the best value on the market, and usually are less expensive than traditional main dealership car body repair prices. Take a look at competing car scratch repair services in the Crewe area and don't be surprised if Bumper Rescue comes up trumps!
Quick quotes
At Bumper Rescue we believe in making things as straight forward as possible for our customers – and that means a customer journey which provides rapid quotes at your request. Before we start work on a job, a quote is offered and agreed, meaning there will be no surprises down the line. In fact, any time you want a no obligation mobile car paint repair quote, just call our team on 01270 440155 or 07508 437170 and they will be happy to assist you.
Believe in the best
We are experts in mobile Crewe paint repair, so if you agree with us that minor car damage repair should be low cost and hassle free, get in touch today.