At Bumper Rescue, we understand how easy it is to sustain damage to your car, especially its paintwork. The roads are busy, parking spaces are narrow, and plenty of common obstacles can have an annoying habit of ending up in your blind spot, which all leads to one thing: car scratches and scrapes. Our mobile car scratch repair Crewe service brings the bodyshop to your front door and at a fraction of the price.
As common as such issues are, this doesn't make them any less costly to you. The chances are that you might want to sell your vehicle at some point, and if you leave these car scratches as they are, your resale value is likely to take a rather significant nosedive.
Of course, it's natural that you don't want to pay a fortune to have that scratch repair in Crewe carried out. Luckily, the professionals who man our team don't expect you to. We keep our costs as low as possible here at Bumper Rescue, and will always try to charge less than your car insurance excess – not only saving you money, but ensuring that your no claims bonus can remain entirely intact.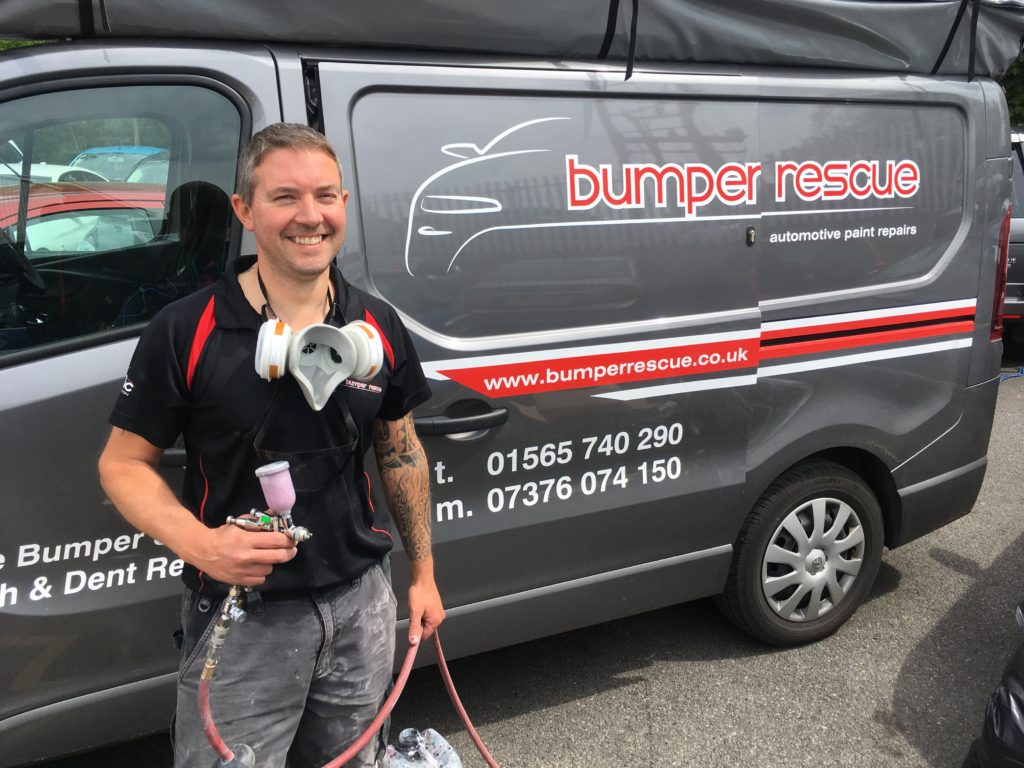 Scratch Repair Crewe
Our mobile scratch repair prices in Crewe are not low because we make any concessions on quality, however. With over 20 years of car body shop experience, our paint repair technicians are experts at what they do, and will provide a flawless finish to rival that found anywhere else. Our finish is achieved using special colour matching technology, allowing us to complete scratch repair work which blends seamlessly into its surroundings, and in doing so, restores your vehicle to its full value in an instant.
Our business works a little differently to more tradition bodyshops. Rather than having you bring your car to us, we will bring our specialist car scratch repair process to you in Crewe, servicing it at your home or workplace. This is how we keep our costs so low, and because we don't have a backlog of other work to carry out it means we can be with you in no time at all.
We won't mess around once we arrive either. Completing most scratch repair requirements in just an hour or two, we'll ensure that there's no need for you to drop your car off and hire a rental to tide you over in the meantime. Bumper Rescue is the best when it comes to fixing mobile car scratches in the Crewe area. We're always eager to help you out, and consistently deliver a customer experience that can't be faulted.
Contact us for Mobile Scratch Repair Crewe
To find out more about any of our services, or book in our team to help you out today, why not give us a call on 01270 440155 or 07508 437170.
Here at Bumper Rescue, the clue is in the name! We specialise in mobile car scratch repair of car bumpers, and are well prepared to help you with any other car paintwork related issues you might have with your vehicle's bodywork. It's hardly a surprise that our services are so in demand these days. With more cars on the road than ever before and parking spaces getting smaller and smaller, it's all too easy to get a car scratch or scrapes on your bumper. Luckily we've got just the skills to help you out with your car scratch repair Crewe, no matter what the damage.
With over 20 years of car body shop experience, we know just how to fix just about anything when it comes to car scratch repair on your paintwork, but the way our business operates is a little bit different to the traditional bodyshop experience – something that our customers really appreciate when they come to us.

Mobile Car Scratch Repair Crewe
We offer a dedicated Crewe car scratch repair service, from our state of the art premises in Crewe. We're happy to offer free quotations in order to spruce up your car and get it looking as good as new again.
Here at Bumper Rescue we understand how inconvenient it is for drivers to find their vehicle out of action for days on end due to a need for a car bumper and scratch repair in Crewe, which is why we ensure that the majority of our repairs are completed the same day. There's no need to waste money on an expensive lease car when you choose Bumper Rescue for all of your bumper scratch repair requirements.
However, just because we get all our Crewe scratch repair work and bumper scuffs done at an optimum speed, doesn't mean that we're going to compromise on quality. Bumper Rescue only employ experienced mobile car paint repair professionals, trained to utilise perfect colour matching technology to create an immaculate finish. Once we're done with your Crewe bumper repair, your motor will look better than ever before. There's no danger your vehicle's resale value will be affected by shoddy paintwork.
Bumper Rescue is committed to delivering both excellence and great value for money. We'll complete our work for a fraction of the price you'd expect to pay elsewhere, with no hidden costs. No one likes to be hit with an offensive bill right at the end of a job, so we'll assure you right before we begin that there's no need for our car scratch repair work to affect your no claims bonus.
Contact us for Mobile Car Scratch Repair Crewe
Friendly, experienced, and the best at what we do, we're the perfect people to call when you're in need of a mobile Crewe car bumper repair and scratch removal, so why not get in touch with us today to find out more about how we can help you. Our friendly team are always happy to handle any questions or queries you might have. Call us on 01270 440155 or 07508 437170. If we're not about when you give us a ring, simply leave a message with any information we might need and we'll be sure to get back to you as soon as possible. Better still, send over a quick snapshot or short video of your car scratch, bumper scrape or stone chips and we'll try to provide you with an instant quote!
Auto paint repair professionals – Bumper Rescue
With over 20 years experience in the industry, we're leaders when it comes to expert mobile auto paint repair and scratch removal in Cheshire and North Staffordshire. Using the latest technology, we provide the highest quality cosmetic repairs to vehicles of all types.
Working alongside our sister company who specialise in PDR (Paintless Dent Removal), we provide a complete auto paint repair service. Whether you've scuffed your bumper on a high kerb, scratched a panel on a low-rise wall or had your car scraped in a car park, we can provide the perfect mobile cosmetic repairs with a flawless finish.
When it comes to mobile car paint repairs, there's lots to consider. Fortunately, our customer service is as good as our workmanship! We pride ourselves on delivering a friendly, reliable and professional service to all our customers. Whatever your needs, you can trust us to complete your car paint repairs to the highest standard.
To find out more about the cost-effective service we offer, why not get in touch with us today on 01565 740 290. Alternatively, why not simply text us your paint damaged photos to 07715 984031 and we'll provide you with an auto paint repair quick quote!
Bumper Rescue – Auto Paint Repair
While it may be tempting to postpone bodywork and auto paint repair, this could result in further damage to your vehicle. If the paint and primer have been scuffed or chipped, for example, it's likely that the metal frame of the vehicle will be exposed to the elements.
If this is the case, rain or damp weather could cause rust to set in. By repairing any paintwork as quickly as possible, you'll prevent this from happening and ensure your car or van is kept in perfect condition.
As well as repairing any existing damage to your vehicle's paintwork, we can help to ensure that the risk of further scratches and scrapes is reduced in the future.
When your car paintwork is scratched, the damage will also remove any protective lacquers on the surface of the paint. Whilst a scuff may not look too bad to the naked eye, there may be more damage than you realise. If left untreated, any future damage could be far worse than you expect. By repairing car scratches and scuffs as they occur, the paintwork can be fully treated and the risk of future damage reduced.
With high-quality, low cost convenient repairs from Bumper Rescue, there's no need to wait to restore your vehicle to its former glory.
Experienced and professional mobile technicians
Bumper Rescue technicians are all highly trained and passionate about the work we do. With years of experience, we're able to identify the best solutions when it comes to car scratch repairs in and around Crewe, Nantwich, Northwich and Stoke on Trent.
By appraising each job individually, we can deliver bespoke paint finishes and ensure that your car scratch repairs aren't even noticeable.
Whilst one scrape or scuff may look similar to another, this isn't the case. Vehicle paintwork is made up of many layers and each scratch may have penetrated to a different level. When carrying out car scratch repairs, we'll determine how deep a scratch or chip is, so that a flawless repair can be carried out.
If your car's paintwork has been scratched and metal is showing, for example, we may use an appropriate primer to protect the vehicle's frame. We'll then apply perfectly-matched paint in layers, so that the finished repair is an exact match to the existing paintwork. If your vehicle has a specific finish or lacquer to enhance the colour or shade, we can also match new materials to this so that you'll be left with a seamless finish and a perfect repair.
Lowering the cost of bodywork repairs
Although mechanical faults can require expensive repairs, many people associate bodywork repairs with high costs too. Whilst traditional body shop services may run into hundreds, or even thousands of pounds, there are other options available. However your car has been damaged, paint scratches, scuffs and scrapes don't need to cost the earth to put right.
At Bumper Rescue, we're dedicated to offering the highest quality of work at a cost-effective price. Rather than paying inflated prices or spending more than you need to, you can access impeccable auto paint repairs in Nantwich, Stoke on Trent, Crewe, Northwich and the surrounding Cheshire & North Staffs areas, for a reasonable cost.
While your insurance cover may include the cost of bodywork and paint repairs, it isn't always advisable to make a claim. In many cases, insurers will simply decide that vehicle panels should be replaced, rather than repairing damage to the paint or bodywork. Often, this is completely unnecessary and results in higher costs for you, as well as the inconvenience of your vehicle being off the road whilst the panels are replaced.
When you rely on your insurer to cover the cost of repairs, you may lose policy benefits, such as your no claims bonus. In addition to this, the cost of future premiums and cover is likely to increase so you could end up paying more for future insurance policies.
Often, we're able to repair the damage to your vehicle at a lower cost than your insurance excess. This means that you'll save money in the short-term and you won't lose your no claims bonus or face the risk of higher premiums. Even better…we come to you with our professional mobile paint repair service.
Flawless auto paint repairs
For drivers, one of the biggest barriers when it comes to vehicle scratch repairs or paintwork fixes, is the time it can take to have the work completed. Using a traditional car body shop, for example, can mean that your vehicle will be off the road for quite some time. In addition to this, it can be time-consuming to get your car to the site and then find alternative transportation.
Furthermore, using insurance car body shops for small to medium paint repairs can be unnecessary and costly. Whilst they're ideal for large repairs or replacing panels, smaller repairs can often be carried out at a lower cost by specialist technicians. At Bumper Rescue we can complete many automotive car paint repair jobs for a lot less than the price at a traditional body shop.
We repair vehicles from Northwich, Crewe, Nantwich, Stoke on Trent and nearby areas for damage such as bumper scuffs, scratches dents and stone chips.
At Bumper Rescue, we understand the needs of our customers and we do everything we can to make the car paint repair process as simple as possible. Our specialist auto paint repairs can be carried out at a time that's convenient for you.
Fast and efficient car scratch repairs
If you've put off having your vehicle paint repairs carried out because of the time involved, you needn't wait any longer! Forget days or weeks of waiting time – Bumper Rescue can carry out repairs to your paintwork in just a few hours.
In most cases, we can repair paint scratches, chips and scuffs in a few hours, so there's no need for your car or van to be off the road and you won't be inconvenienced. By using state of the art technology, our experienced mobile car paint repair technicians can assess the damage to your vehicle and carry out a high-quality repair quickly and efficiently.
Rather than replacing panels or respraying entire areas, we'll focus on where the damage occurred and limit the need for unnecessary work. With environmentally friendly paint technology and skilled professionals, we can deliver a flawless repair – every time.
For speedy car paint repairs with a sublime finish, why wait any longer? If you're looking for professional car scratch repairs in Nantwich, Stoke on Trent, Crewe, Nantwich or the surrounding areas, contact us today on 01565 740 290 or 07773 239 790 and find out how we can help.
Repairing bumper scuffs and dents
Much of the wear and tear of a vehicle is visible on the bumpers and this can result in unsightly scratches and scuffs. Whether your car bumpers are traditional black or colour-coded, any marks or dents can affect the appearance of the vehicle as a whole.
High kerbs, awkward driveways and speed bumps can easily cause damage to your bumpers, but this needn't be irreversible. Whilst replacing a bumper can be unnecessarily costly, the damage can often be put right.
Fortunately, it's easy to repair scuffs or dents to the bumpers with Bumper Rescue. Whether your bumpers have been damaged in a collision, as a result of a parking mishap or because of stone chips on the road, our specialist car paint repair service can rectify any issues.
Increase the value of your car
The presence of scratches and scuffs on your vehicle will affect more than just how your car looks. In addition to damaging the car's appearance, chips and scrapes to the paintwork of your vehicle can also affect its value.
If you're considering selling your vehicle or if you want to ensure it keeps its monetary value, carrying out any paintwork repairs can be an advisable thing to do. For many drivers, their car is one of their biggest assets, so it makes sense to protect its value and keep it in perfect condition. You wouldn't risk the integrity of your vehicle by ignoring flat tyres or engine faults, so why postpone important repairs to the paintwork?
Whether you're planning to sell your car in the near future or not, it's always worth keeping it in tip top condition. Preventing further damage and restoring the appearance of your car will help to retain, or even increase, its value over time.
Of course, you may not use your own vehicle at all times and, on occasion, you may need to carry out repairs on hired or leased vehicles. If you regularly use a company car or work vehicle, for example, you'll want to repair any damage to it before you return it to the relevant lease company. Using Bumper Rescue ensures that you can return the vehicle in perfect condition and avoid losing your deposit or incurring any costly penalties.
With our mobile auto paint repair and scratch repairs coming in at just a fraction of the cost, restoring a hired or leased vehicle in Stoke, Northwich, Nantwich, Crewe or the nearby areas, can save you time and money. To learn more now, contact us on 01270 440155 or 07508 437170 and we'll be on hand to help.
Only the best paint recognition technology
When carrying out mobile auto paint repair or scratch removal, it's vital that the colour is matched perfectly. Only by using the right colour and paint finish can your vehicle be properly repaired. Why risk an unsightly mismatched repair when a perfect match and an exquisite finish can be achieved at a low cost?
As industry leaders, we're heavily invested in using new technology to provide the best scratch repairs possible. Our well-equipped mobile paint repair unit enables us to identify the paint used on your vehicle quickly and easily. Our top of the range paint recognition software means that we can determine the exact colour and shade.
Whether you're driving the latest 4×4, an older hatchback, a vintage classic or a limited edition vehicle, we'll find the perfect match for your car before we carry out any work.
Following this, we'll use our advanced waterborne paint technology to develop a perfect colour match. Our state of the art software and experience means that we can provide a seamless finish to any paintwork in a matter of hours.
High-quality, low cost auto paint repair.
If your car or van has been scratched, chipped or scuffed, why not get in touch with us and find out how we can help?
Our low cost service means that everyone can benefit from seamless car scratch repairs. Although we provide affordable, cost-effective auto paint repairs, this doesn't mean we scrimp on quality. Committed to delivering flawless work, our dedicated technicians will carry out your repairs to the highest standard. In fact, our Bumper Rescue guarantee means that you won't pay anything unless you're happy with the results!
To find out more or to arrange a mobile auto paint repair in Northwich, Nantwich, Stoke on Trent, Crewe or the surrounding areas, contact Bumper Rescue today on 01270 440155 or 07508 437170.
When you find a scuff, scratch or scrape on your car body or bumper, your first instinct may well be to wish it away. Dont worry! Bumper Rescue's mobile car paintwork repair service is on hand to take care of all those supermarket car bumper scrapes and car paintwork related headaches in Knutsford and the surrounding areas.
It's hard to know which is worse. Finding damage inflicted by other drivers or a malicious prank. Or knowing that it was your momentarily lack of concentration that put you in contact with a wall, post or some other obstacle.
Then there is the curse of the supermarket trolley that has affected many Knutsford car owners. In fact, two thirds of car damage happens in car parks, according to RAC Insurance.
Mobile Car Paintwork Specialists

Whichever way the car paint damage happened, swift and decisive action is required to restore your vehicle to its former glory. After all, you don't want to find that the value of your car has dropped when you come to sell it. (Surveys show buyers often look first at bumpers and bodywork to check for faults.)
Bumper Rescue offers you the chance to get the work done quickly, affordably and stress-free, without having to put it out of action for any length of time.
That's because we offer the latest colour matching technology, waterborne environmentally friendly paints, and precision repair work for customers in Knutsford at our professional smart repair premises in Cheshire.
Our highly-trained technicians – who have around 20 years' experience to back them up – can complete smart repairs  in as little as a few hours. All done at a time that best suits you.
Car paintwork repair to your home or work for low costs

This highly versatile and professional service even costs a great deal less that you would probably imagine.
Bumper Rescue's charges for mobile car paintwork repairs in Knutsford usually works out to be less than the cost of your insurance policy excesses. So, Knutsford drivers who need mobile car scratch repairs and other paintwork restoration don't have to go through their insurance company and can keep hold of their no claims bonus.
Complete package paint repairs
From tiny cracks in car paintwork to substantial car bodywork damage in Knutsford, Bumper Rescue can provide fast, high quality repairs. Professional and fast repairs like it never happened. To make your car paintwork repair damage disappear quickly, just call us on 01270 440155 or 07508 437170.