At Bumper Rescue, we understand how easy it is to sustain damage to your car, especially its paintwork. The roads are busy, parking spaces are narrow, and plenty of common obstacles can have an annoying habit of ending up in your blind spot, which all leads to one thing: car scratches and scrapes. Our mobile car scratch repair Crewe service brings the bodyshop to your front door and at a fraction of the price.
As common as such issues are, this doesn't make them any less costly to you. The chances are that you might want to sell your vehicle at some point, and if you leave these car scratches as they are, your resale value is likely to take a rather significant nosedive.
Of course, it's natural that you don't want to pay a fortune to have that scratch repair in Crewe carried out. Luckily, the professionals who man our team don't expect you to. We keep our costs as low as possible here at Bumper Rescue, and will always try to charge less than your car insurance excess – not only saving you money, but ensuring that your no claims bonus can remain entirely intact.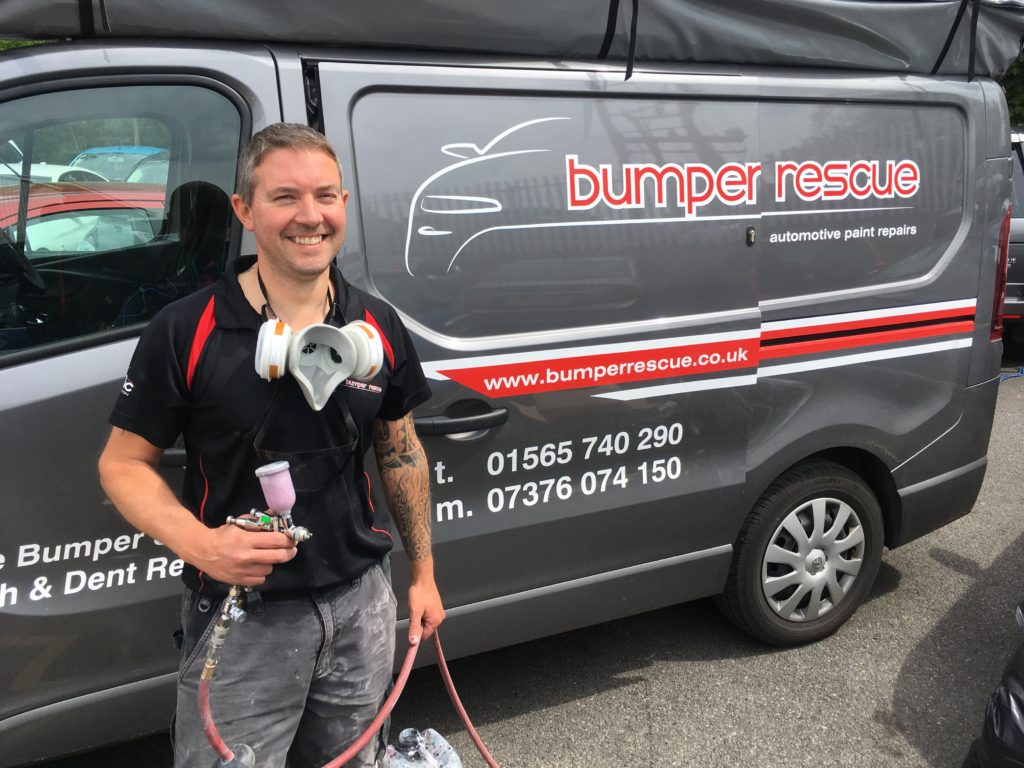 Scratch Repair Crewe
Our mobile scratch repair prices in Crewe are not low because we make any concessions on quality, however. With over 20 years of car body shop experience, our paint repair technicians are experts at what they do, and will provide a flawless finish to rival that found anywhere else. Our finish is achieved using special colour matching technology, allowing us to complete scratch repair work which blends seamlessly into its surroundings, and in doing so, restores your vehicle to its full value in an instant.
Our business works a little differently to more tradition bodyshops. Rather than having you bring your car to us, we will bring our specialist car scratch repair process to you in Crewe, servicing it at your home or workplace. This is how we keep our costs so low, and because we don't have a backlog of other work to carry out it means we can be with you in no time at all.
We won't mess around once we arrive either. Completing most scratch repair requirements in just an hour or two, we'll ensure that there's no need for you to drop your car off and hire a rental to tide you over in the meantime. Bumper Rescue is the best when it comes to fixing mobile car scratches in the Crewe area. We're always eager to help you out, and consistently deliver a customer experience that can't be faulted.
Contact us for Mobile Scratch Repair Crewe
To find out more about any of our services, or book in our team to help you out today, why not give us a call on 01270 440155 or 07508 437170.
Here at Bumper Rescue, the clue is in the name! We specialise in mobile car scratch repair of car bumpers, and are well prepared to help you with any other car paintwork related issues you might have with your vehicle's bodywork. It's hardly a surprise that our services are so in demand these days. With more cars on the road than ever before and parking spaces getting smaller and smaller, it's all too easy to get a car scratch or scrapes on your bumper. Luckily we've got just the skills to help you out with your car scratch repair Crewe, no matter what the damage.
With over 20 years of car body shop experience, we know just how to fix just about anything when it comes to car scratch repair on your paintwork, but the way our business operates is a little bit different to the traditional bodyshop experience – something that our customers really appreciate when they come to us.

Mobile Car Scratch Repair Crewe
We offer a dedicated Crewe car scratch repair service, from our state of the art premises in Crewe. We're happy to offer free quotations in order to spruce up your car and get it looking as good as new again.
Here at Bumper Rescue we understand how inconvenient it is for drivers to find their vehicle out of action for days on end due to a need for a car bumper and scratch repair in Crewe, which is why we ensure that the majority of our repairs are completed the same day. There's no need to waste money on an expensive lease car when you choose Bumper Rescue for all of your bumper scratch repair requirements.
However, just because we get all our Crewe scratch repair work and bumper scuffs done at an optimum speed, doesn't mean that we're going to compromise on quality. Bumper Rescue only employ experienced mobile car paint repair professionals, trained to utilise perfect colour matching technology to create an immaculate finish. Once we're done with your Crewe bumper repair, your motor will look better than ever before. There's no danger your vehicle's resale value will be affected by shoddy paintwork.
Bumper Rescue is committed to delivering both excellence and great value for money. We'll complete our work for a fraction of the price you'd expect to pay elsewhere, with no hidden costs. No one likes to be hit with an offensive bill right at the end of a job, so we'll assure you right before we begin that there's no need for our car scratch repair work to affect your no claims bonus.
Contact us for Mobile Car Scratch Repair Crewe
Friendly, experienced, and the best at what we do, we're the perfect people to call when you're in need of a mobile Crewe car bumper repair and scratch removal, so why not get in touch with us today to find out more about how we can help you. Our friendly team are always happy to handle any questions or queries you might have. Call us on 01270 440155 or 07508 437170. If we're not about when you give us a ring, simply leave a message with any information we might need and we'll be sure to get back to you as soon as possible. Better still, send over a quick snapshot or short video of your car scratch, bumper scrape or stone chips and we'll try to provide you with an instant quote!