At Bumper Rescue, we understand how easy it is to sustain damage to your car, especially its paintwork. The roads are busy, parking spaces are narrow, and plenty of common obstacles can have an annoying habit of ending up in your blind spot, which all leads to one thing: car scratches and scrapes. Our mobile car scratch repair Crewe service brings the bodyshop to your front door and at a fraction of the price.
As common as such issues are, this doesn't make them any less costly to you. The chances are that you might want to sell your vehicle at some point, and if you leave these car scratches as they are, your resale value is likely to take a rather significant nosedive.
Of course, it's natural that you don't want to pay a fortune to have that scratch repair in Crewe carried out. Luckily, the professionals who man our team don't expect you to. We keep our costs as low as possible here at Bumper Rescue, and will always try to charge less than your car insurance excess – not only saving you money, but ensuring that your no claims bonus can remain entirely intact.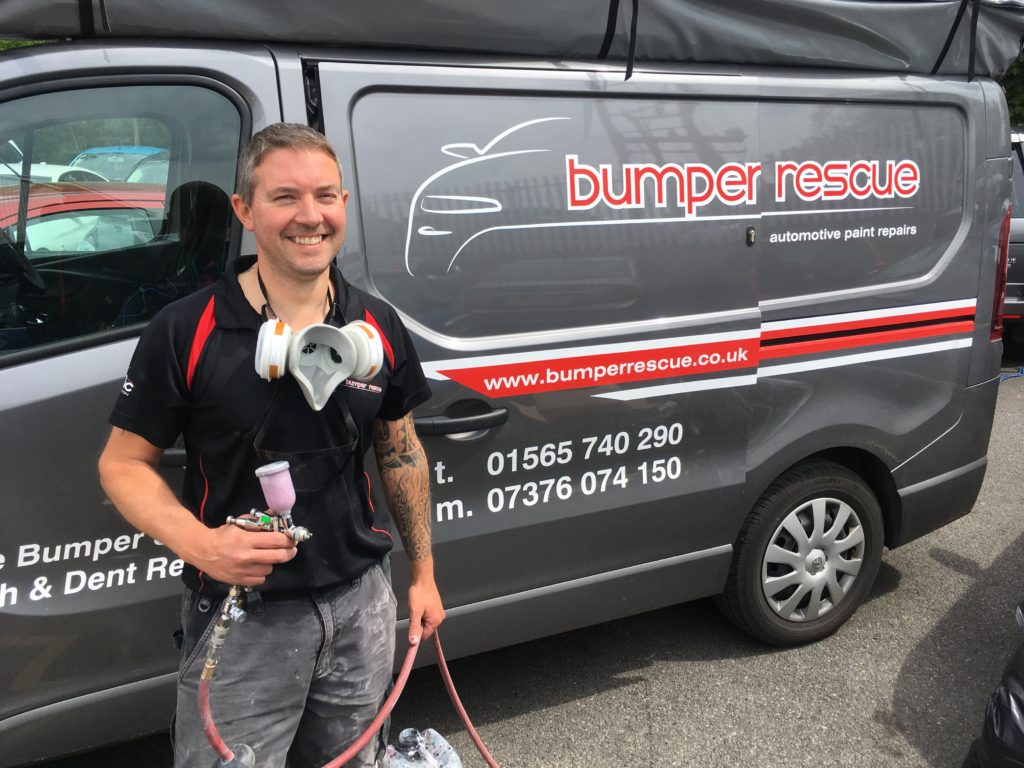 Scratch Repair Crewe
Our mobile scratch repair prices in Crewe are not low because we make any concessions on quality, however. With over 20 years of car body shop experience, our paint repair technicians are experts at what they do, and will provide a flawless finish to rival that found anywhere else. Our finish is achieved using special colour matching technology, allowing us to complete scratch repair work which blends seamlessly into its surroundings, and in doing so, restores your vehicle to its full value in an instant.
Our business works a little differently to more tradition bodyshops. Rather than having you bring your car to us, we will bring our specialist car scratch repair process to you in Crewe, servicing it at your home or workplace. This is how we keep our costs so low, and because we don't have a backlog of other work to carry out it means we can be with you in no time at all.
We won't mess around once we arrive either. Completing most scratch repair requirements in just an hour or two, we'll ensure that there's no need for you to drop your car off and hire a rental to tide you over in the meantime. Bumper Rescue is the best when it comes to fixing mobile car scratches in the Crewe area. We're always eager to help you out, and consistently deliver a customer experience that can't be faulted.
Contact us for Mobile Scratch Repair Crewe
To find out more about any of our services, or book in our team to help you out today, why not give us a call on 01270 440155 or 07508 437170.
When you find a scuff, scratch or scrape on your car body or bumper, your first instinct may well be to wish it away. Dont worry! Bumper Rescue's mobile car paintwork repair service is on hand to take care of all those supermarket car bumper scrapes and car paintwork related headaches in Knutsford and the surrounding areas.
It's hard to know which is worse. Finding damage inflicted by other drivers or a malicious prank. Or knowing that it was your momentarily lack of concentration that put you in contact with a wall, post or some other obstacle.
Then there is the curse of the supermarket trolley that has affected many Knutsford car owners. In fact, two thirds of car damage happens in car parks, according to RAC Insurance.
Mobile Car Paintwork Specialists

Whichever way the car paint damage happened, swift and decisive action is required to restore your vehicle to its former glory. After all, you don't want to find that the value of your car has dropped when you come to sell it. (Surveys show buyers often look first at bumpers and bodywork to check for faults.)
Bumper Rescue offers you the chance to get the work done quickly, affordably and stress-free, without having to put it out of action for any length of time.
That's because we offer the latest colour matching technology, waterborne environmentally friendly paints, and precision repair work for customers in Knutsford at our professional smart repair premises in Cheshire.
Our highly-trained technicians – who have around 20 years' experience to back them up – can complete smart repairs  in as little as a few hours. All done at a time that best suits you.
Car paintwork repair to your home or work for low costs

This highly versatile and professional service even costs a great deal less that you would probably imagine.
Bumper Rescue's charges for mobile car paintwork repairs in Knutsford usually works out to be less than the cost of your insurance policy excesses. So, Knutsford drivers who need mobile car scratch repairs and other paintwork restoration don't have to go through their insurance company and can keep hold of their no claims bonus.
Complete package paint repairs
From tiny cracks in car paintwork to substantial car bodywork damage in Knutsford, Bumper Rescue can provide fast, high quality repairs. Professional and fast repairs like it never happened. To make your car paintwork repair damage disappear quickly, just call us on 01270 440155 or 07508 437170.